Internships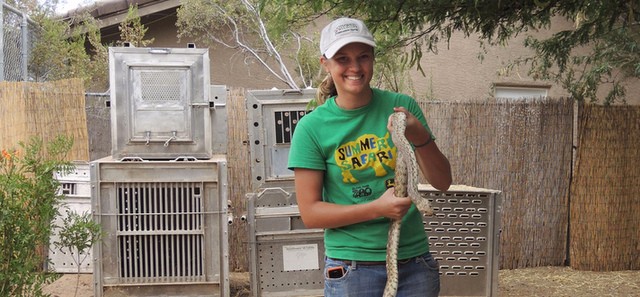 Wildlife Medicine Internship:
SWCC is pleased to offer the opportunity for interns to gain experience in wildlife medicine.  Interns will learn about preventive and emergency medicine, wildlife handling, and triage methods by participating in daily activities alongside the veterinary staff and volunteers.  This is an unpaid internship opportunity.  Daily activities that interns will assist with include cleaning enclosures; diet protocols; laundry and restocking of medicine and supplies; vaccine, trauma and disease management; and evaluation of animal behavior for release.  Interns will be expected to develop or select a project to complete during their internship, and make a short presentation of project to staff at the conclusion of their session.
Term of Appointment:
Internships are offered for spring, summer and fall sessions.  Interns should be able to devote 28 hours per week (4 days at 7 hours per day) during the session.  Each session lasts approximately 3 ½ months.  Exact dates are flexible and will be negotiated upon acceptance.
Spring session is January – April.  Applications accepted until 31 October.
Summer session is May – August.  Applications accepted until 28 February.
Fall session is September – December.  Applications accepted until 30 June.
Qualifications:
Must be at least a sophomore in college.  
Enjoy working outdoors in all weather conditions.
Must be in good physical condition and able to stand for long periods, stoop, climb, and lift 50 pounds.
Preference given to undergraduate or graduate students pursuing a career in a related field.
Current tetanus and rabies vaccinations required.
Stipend:
This is an unpaid internship.  College credit is offered if desired; interns are responsible for obtaining necessary approval from their university. 
Interns are responsible for their own transportation, housing and personal health insurance.
To Apply:
The following documents are required:
Resume or CV
One page statement of your interest in this internship.  Include relevant experience, career goals, and what you hope to gain from the position.  Your statement is very important for the applicant evaluation process.
Current academic status and any degrees held or expected.
Two letters of reference.
Email application materials or questions to linda.moore@southwestwildlife.org.  No phone calls will be accepted.