Wild Family - Monthly Giving!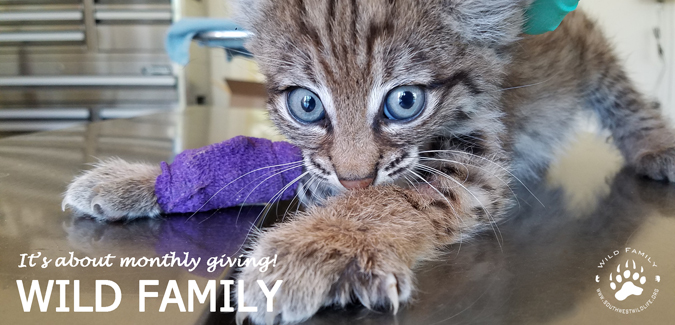 Monthly giving is the easiest way to support Southwest Wildlife's work for wildlife.  When you sign up to join our Wild Family with a monthly gift, you're providing a consistent, reliable stream of income that we can count on – like family – to always be there. 
Who are the animals receiving care?
They're all rescues.  Some are rescued from the wild - starving, orphaned or lost.  Some arrive with serious trauma or a treatable illness.   Many are rescued former pets with disabling conditions caused by neglect or abuse.  Your monthly gift makes it possible for us to be here 24 hours a day, 7 days a week, 365 days a year, for wildlife in need!
Look through our Wild Family Album and read a few of the success stories that our Wild Family monthly donors make possible. 
Become a part of our Wild Family monthly giving program and support Southwest Wildlife's mission to Save Our Wildlife, One Life at a Time! 
---
If you are a current Wild Family member and need to change or manage your account, please contact us by email at wildfamily@southwestwildlife.org.