Join Our Wild Family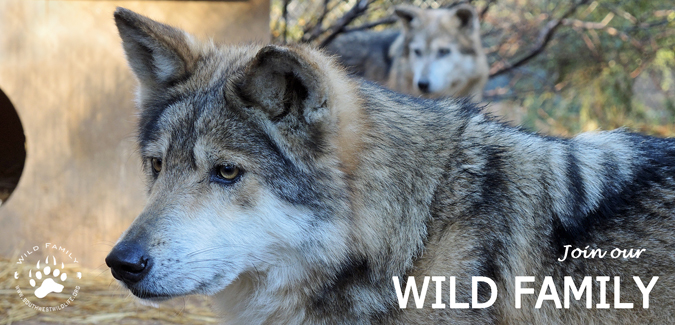 Join our Wild Family!  Give a monthly gift TODAY! 
As part of our Wild Family you'll receive special updates of our Southwest Wildlife Wild Family animals and previews of new arrivals, with comments from veterinarians, care staff and volunteers.  You will also be invited to attend our Family Reunion, an annual event just for family members held at the Southwest Wildlife facility.         
Thank you for being part of our Wild Family!
---
If you are a current Wild Family member and need to change or manage your account, please contact us by email at wildfamily@southwestwildlife.org. 
---
HERE ARE EXAMPLES OF WHAT YOUR MONTHLY CONTRIBUTION CAN DO:
$10.00 can buy straw bedding so the animals can have a soft bed to curl up in. 
$25.00 will keep the evaporative cooler running so Acorn and Pinion, the porcupines, will have a comfortable summer.  
$50.00 pays for part of the Exotic Carnivore diet made specially to keep the Mexican wolves strong and healthy.
$100.00 can help pay for the medicine Tocho the mountain lion needs every day for Valley Fever. 
$500.00 will help buy trout or salmon heads so our hungry bears can enjoy fish - one of their favorite foods.
Or choose your own amount above $10.00.
---