Sangria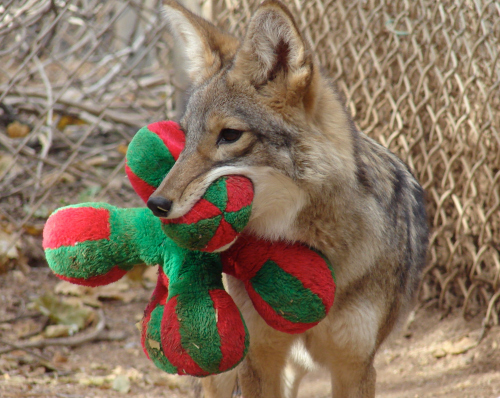 Sangria was born in 2011.  Found in the wild by people who thought she'd make a good pet, she spent the first months of her life with people and dogs for company.  Finally, realizing they wouldn't be able to care for her as she matured, they turned her in to the Arizona Game and Fish Department.  By that time, however, her health was in serious decline. 
When she arrived at Southwest Wildlife she was sick and malnourished.  Sangria spent many months in the clinic, while we built up her strength and health.  It's critical for coyotes, and other wild carnivores, to have a proper diet when they're very young in order for their bones and internal organs to develop correctly.  A nutritionally adequate diet would include whole prey, with fur, bones, muscle and organ meat.  As a result of the poor diet Sangria had when she was young, she has lots of health problems, including metabolic bone disease, cataracts in both eyes and hearing loss, and is very small in size.
Today, Sangria has an enclosure in the Nature Center and is strong enough to be out on her own.  She's still very tiny and it's likely there will be continuing health issues for her.  She wasn't raised with other coyotes and doesn't get along with them, so she's living on her own for the time being.  She does enjoy occasional visits from a couple of the clinic dogs that she got to know when she was a puppy.
Sangria could be out in the wild today, being a normal coyote, if the people who found her had contacted a wildlife rehabilitator immediately.  It's never a good idea to try to raise a wild animal.