F858 Magdalena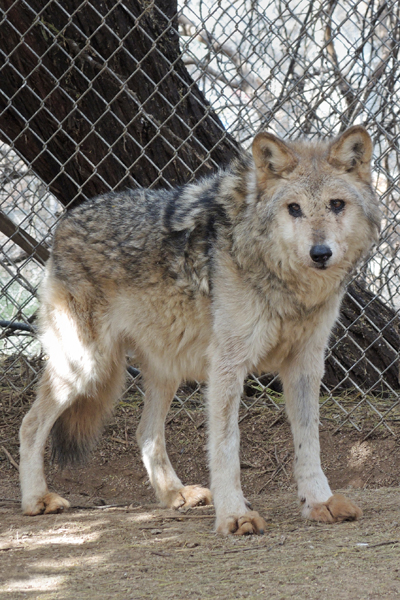 Mexican gray wolf F858, Magdalena ("Maggie"), was wild born in 2002 into the Cienega Pack.  She was nearly two years old before she was captured, collared and given an official number in the Studbook.
She left her natal pack, found a mate, and formed a new wolf pack in 2004  The pack was named the Rim Pack because the area she chose for a territory bordered the Mogollon Rim in the Blue Range Wilderness Area of Arizona.
F858, along with her puppies in the den, survived the devastating Wallow Fire in 2011.  She lost two mates, raised puppies on her own, and found a new, younger mate even when she was nearly 10 years old. 
The decision was made to attempt the release of a new, younger wolf pack into her territory (one of the best in the Blue Range) so she was captured in 2013.  Southwest Wildlife is now her permanent home. 
Still a wild wolf, Magdalena is currently the oldest female Mexican wolf at Southwest Wildlife and lives in an off-exhibit area with our oldest male Mexican wolf, M731, Oz.