Pinion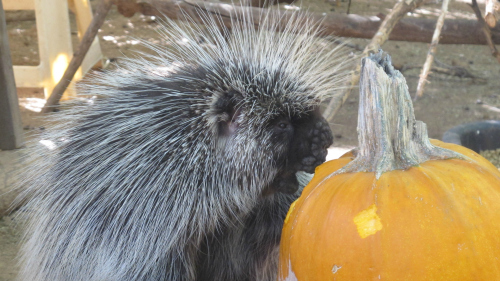 Pinion is the largest porcupine at Southwest Wildlife, and lives with his companion, Acorn. He is the least shy of the two.  He was orphaned as a baby near a logging community in Northern Arizona. Someone found the baby porcupine after his mother was killed by a fallen tree.  Pinion spent time around people when he was young, and has no fear of them, so he couldn't be released back to the wild.  His favorite foods are pecans and bananas.     
The porcupines eat bark from fresh pieces of pine, oak and cottonwood we find for them.  New, spring leaves and rose petals are also a big favorite.  Their teeth grow continuously, so gnawing on bark is necessary to keep their teeth short and sharp. 
The porcupines are a constant source of joy at the sanctuary.  They're slow and deliberate, very appreciative of their food bowls, and so much fun to watch.  Theirs is one of the first enclosures new volunteers are allowed to enter, so there are lots of porcupine stories. 
We named our porcupines without really knowing whether they're male or female.  Reproductive organs for a porcupine are all internal, so without surgery, we're just guessing.  They don't seem to mind.